Reliability Repeatability Outstanding value.
The ideal solution for polishing hollow molds for the production of glass and plastic containers.
Description of the machine and the polishing process
Configured with one, two or four working boxes where it is possible to load up to 6, 12 or 24 molds at the same time. The operator fixes the molds in the work box by means of a quick mechanical or magnetic locking. This allows the media inside the mold to move relative to the surface of the mold. The loading and unloading of the polishing liquids are managed automatically and are recyclable. The machine software allows you to store the processing recipes.
The polishing quality that you can obtain with this system is equal to a surface roughness Ra up to 0.05 microns (similar to 2000 brush paper), this value depends on the material of the molds. Furthermore, the technology makes it possible to polish molds of different shapes (round, square, etc.) and in different materials (cast iron, bronze, aluminum, steel, etc.).
Some of the
benefits
of using this technology are:
Sustainability in your polishing processes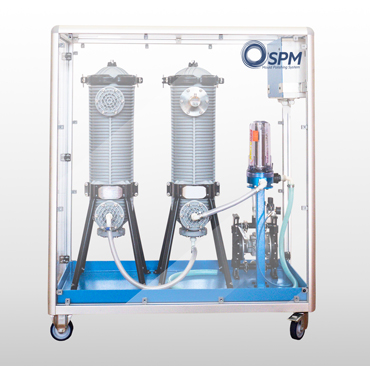 Reduce polishing costs even more with the use of our filtering system purposely designed to save the polishing liquid while respecting the environment